Bring your favorite restaurant flavors home! Thai Green Curry is a favorite takeout meal for so many in our community, we wanted to bring these rich flavors to your kitchen after completing your 8-Day Jumpstart. This vegetarian recipe is packed with flavor, fiber, and protein!
Thai Green Curry Recipe
Serves 4
Fat: 18g Protein: 13g Carbs: 41g
Ingredients
● 12 oz. tofu, cubed
● 2 Tbs. olive oil
● ½ tsp. salt
● 2 sweet potatoes, peeled and cubed
● 4 Tbs. green curry paste
● 2 ½ C unsweetened coconut milk
● 3 C broccoli florets
● 4 C cauliflower rice, cooked
Directions
In a large stockpot, heat olive oil over medium-high heat. Add the tofu and salt, and fry for ten minutes until golden brown. Pour cooked tofu on a separate plate and set aside.
Add sweet potatoes, coconut milk, and curry paste to the stockpot. Simmer for 10 minutes until the sweet potatoes are tender.
Add broccoli and the cooked tofu to the stockpot, and simmer for an additional 5 minutes.
Serve immediately with 1 cup cooked cauliflower rice.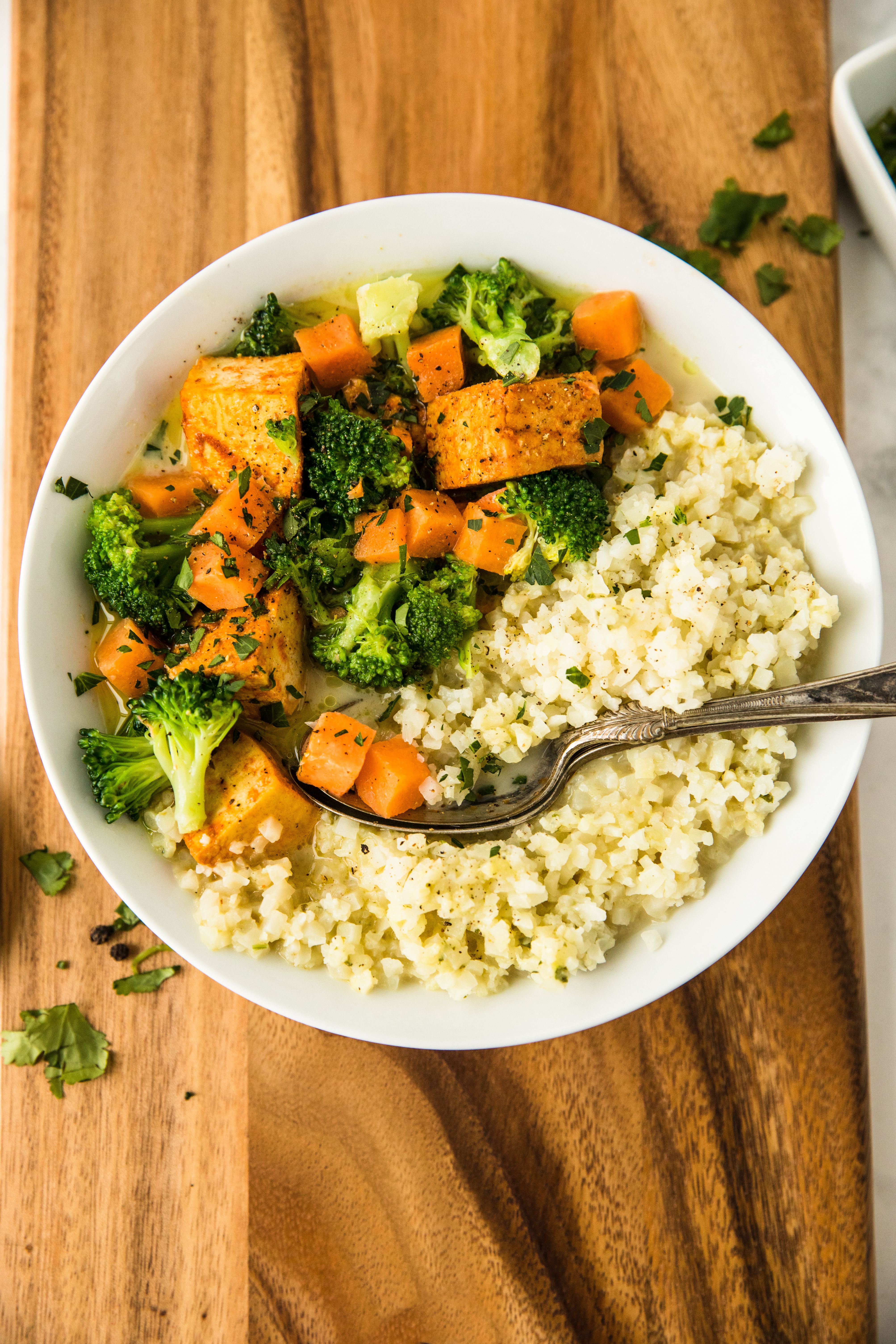 What Is The Difference Between Thai Red Curry and Thai Green Curry?
With the most outwardly obvious difference being the color, red curry is created by using dry red chilies for the base of its paste. Red chilies are typically spicier than green chilies, ultimately creating a much hotter dish. Green chilies are milder in flavor and are used as the base in the best Thai green curry paste, and can oftentimes even be thought of as somewhat sweet.
What Are The Health Benefits of Tofu?
Over the years, due to its high levels of isoflavones, tofu has been found to lower the risk of several age and lifestyle-related diseases including cardiovascular disease, both breast and prostate cancer, type 2 diabetes, osteoporosis, and more. Tofu is also considered to be a strong source of protein, and it contains all nine essential amino acids. It is a plant source of both calcium and iron and contains magnesium, copper, zinc, and vitamin B1.
Is Tofu Good For Weight Loss?
When trying to lose weight, a high-protein diet is imperative as protein helps in toning the muscles. Tofu is considered to be one of the highest sources of protein, especially for vegetarians making it a versatile choice. It is a wonderful option for weight loss as it is extremely low in both cholesterol and fat content. Tofu helps to reduce bad cholesterol levels and triglycerides and is also thought of as a preventative for helping to reduce the risk of stroke or other cardiovascular diseases.
What Are Healthy Alternatives to Tofu?
Seitan and tempeh are both healthy alternatives to tofu. Both substitutes are also considered high in protein and have textures that are comparable to meat when cooked. There are also many meat substitute products currently on the market that will make wonderful fill-ins for tofu and your vegetarian curry recipe.
And if you're looking for more great tasting meals, you'll want to check out these other low carb recipe options which are approved for use after you complete the Xyngular 8-Day Jumpstart program.
For more information on the 8-Day Jumpstart, and other Xyngular systems, contact your Xyngular distributor, or call our Member Service team at 1-801-756-8808. Or, if you have a Xyngular account, you can log in to place your order.
*Lose up to 15 pounds in 8 days. Lose an additional 1-2 pounds or more each week following the 8-day jump start. Results are not guaranteed and can vary.
More Healthy Recipes From Xyngular...